Reflections
— from Edie Stoneking, Congregational Member
March for Our Lives, Washington, DC, March 24, 2018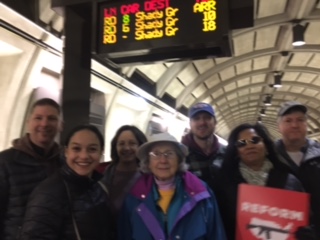 Edith Stoneking, Craig Stoneking, Eric and Sarah Stoneking, Charm Seright, Josh Walsman, Evelyn Diaz and Isabel Walsman-Diaz, joined "March for Our Lives" with survivors of the Marjory Stoneman Douglas High School shooting, along with hundreds of thousands of students, parents, teachers, family members, friends and strangers.
We marched for unity, for protest, for healing, to bring about reform in gun laws that allow a culture of violence that is plaguing our country. There were volunteers present to register voters, and chants of "vote them out" targeting politicians and their NRA funders erupted at every pause.
There were family members of victims from Columbine, Sandy Hook, Great Mills, Las Vegas, Pulse, and Aurora CO, among others, listening to the survivors of gun violence in their cities, neighborhoods, schools and homes, one as young as 11-years old, tell their stories.
There were celebrities (Lin-Manual Miranda, Ariana Grande, Miley Cyrus, Vic Mensa) who sang their support and were joined by this generation of activists who are committed to bring about change.
It was inspiring, energizing, galvanizing. And finally, it was a requiem for the loss of 17 loved ones who now will live on in the memories of everyone who was there.